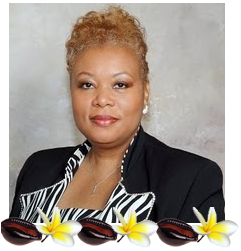 The Reverend Doctor Altonnette D. Hawkins
, fondly known as "Rev. Diva" is an ordained minister with dual standing in the United Church of Christ (UCC) and the Christian Church (Disciples of Christ). She is the President and Founder of Divas for Christ, Inc., an online interdenominational self-care support network for women serving in ministry.
D.I.V.A.S.
stands for
Divinely
I
nspired
Virtuous
&
V
ictoriously
A
nointed
S
isters
. She was launched into pastoral ministry in 2002 by Rev. Dr. Delores Carpenter, Pastor Emerita, Michigan Park Christian Church (DOC) in Washington, DC and Rev. Dr. Joaquin Willis, Senior Pastor of The Church of the Open Door UCC in Miami, FL. She began ministry as an Associate Pastor at Amistad UCC in Lanham, MD. She is the former Senior Pastor of Plymouth Congregational UCC. She is pastor at Open Door Christian Church (DOC) in Louisville, KY.
Rev. Hawkins' ministry priorities are congregational redevelopment, discipleship, community outreach in the areas of HIV/AIDS, prison congregations, youth empowerment, women's ministries, clergy self-care, pastoral care and counseling. She is known for her signature sermon delivery mixed with creative story-telling and soulful singing. While she ministers to all, she is passionately concerned about clergy care and helping women discern their call to ministry, live in unity, and implement self-care strategies to effectively serve their families and community. She has mentored several women and men in ministry and continues to serve as a clergy mentor to ministers and seminarians.
She earned a Bachelor of Arts degree in Public Administration from Rutgers University in New Brunswick, NJ; attended American University in Washington, DC but later chose seminary where she earned a Master of Divinity degree at Howard University School of Divinity in Washington, DC. In addition, she is certified in Church Administration from the Institute for Church Administration in Atlanta, GA. She earned her Doctor of Ministry degree at Louisville Presbyterian Theological Seminary. She is a member of the American Association of Pastoral Counselors and the Kentuckiana Pastoral Counseling Consortium.
Dr. Hawkins is a Focus Louisville Leadership graduate. She is the founder of Imitators of Christ, a clergy peer group funded by the Kentucky Council of Churches - Health and Hospitality Opportunities for Peer Ecumenism (HHOPE) program through the Lilly Endowment. Among some of her honors, she is listed among Who's Who in Black Louisville, featured in the inaugural edition of Who's who; recipient of the National Council of Negro Women, Louisville Section – Bethune Community Service Award. She is involved in various ecumenical and community organizations including serving as co-chair of the African American Women in Ministry Conference 2013-2014 and 2015-2016 for the United Church of Christ.
She is President of the Empowerment Group of Metro Louisville, Inc; past Vice President of the Board of Directors for AIDS Interfaith Ministries of Kentuckiana (AIM); former Secretary for the Interdenominational Ministerial Coalition (IMC) of Metro Louisville; and former executive officer for the United Black Christians (Region 4). She is a member of the 15K Faith Action Task Force to help increase the number of degreed African Americans in Metro Louisville. In addition, she has served on the board for the Prison Congregations of America, Kentucky Council of Churches Program Unit on Racism and Peacemaking, and Luther Luckett Christian Church (DOC).
Dr. Hawkins is a native New Yorker born to parents Lula M. Hawkins and the late Pastor Ruben A. Hawkins. She is the oldest of eight, the mother of two sons, Robert and Tyree, and grandmother of three: Michael, Alexus and Chavay. Her guiding scripture is Proverbs 3: 5-6, "Trust in the Lord with all of thine heart, and lean not unto thine own understanding. In all thy ways acknowledge the Lord, and He shall direct thy paths." Her testimony is, "To God be the glory for the things God has done, but you ain't seen nothing yet because…the best is yet to come!